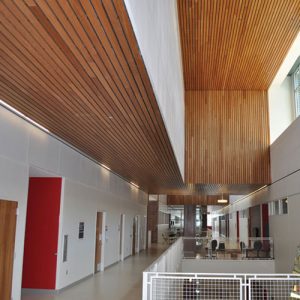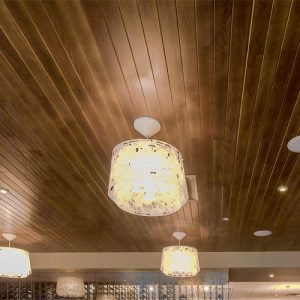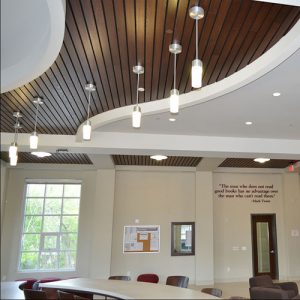 Linear Ceilings & Walls
Our Linear wood systems are available in two types, Tongue and Groove (T&G) and Reveal. Linear T&G planks come in standard widths of 4″ or 5″ face and have three available edge options. Linear Reveal planks come in standard modules of 4″ or 6″ and have three available reveal widths. Linear Reveal includes either a felt or ABS plastic filler strip to conceal the hardware and plenum. For projects requiring acoustical absorption, acoustical backer may be installed above. Perimeter trim options are also available. Attachment clips easily snap to 15/16″ HD T-bar grid. Direct attach clips can be used to install directly onto walls and ceilings.
If ordering quantities less than 500 sq.ft. please call 1.888.258.4637 for availability. 
Available in solid or wood veneer in the species shown below*
Linear T&G is available in three edge options: V-Groove, Flat V-Groove, and Butt Joint
Linear reveal is available in three reveal width options: 1/4″, 1/2″, 3/4″
Perimeter trim up to 6″ available
Felt or ABS filler strips to enhance reveals between planks
FSC available
May contribute to LEED® projects
FINISHES: Clear lacquer top coat, Class-A varnish, or stained to match
Touch-up finish available for field application
Available core materials are:
Class A Fire Rated Particle Board
Class A Fire Rated MDF
Moisture-resistant MDF for exterior applications
Optional features for sound control: Acoustical backer available in 1″ and 2″
Standard 3/4″ thickness
Linear planks made with solid wood have a max width of 5″ and are provided in random lengths of 4′ – 10′
Linear planks made with veneer are available in 3″ – 8″ modules in 8′ – 10′ lengths
Direct attach clip
HD T-bar grid clip
Linear Reveal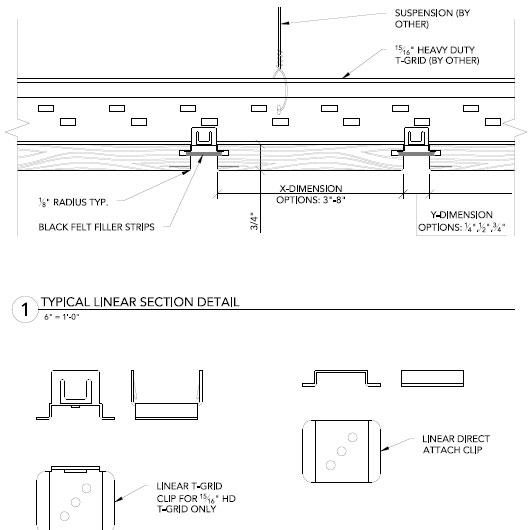 Linear Reveal
For walls and ceilings
• Planks are field cut to fit irregular installations
• Planks provide a monolithic appearance with staggered end joints
• Custom widths and reveals are available
• Custom stains and species available
Linear Tongue and Groove
Linear Tongue and Groove
For walls and ceilings
• Planks are field cut to fit irregular installations
• Planks can provide a Traditional look in V-groove edge
• Planks can provide a Modern look in Butt Joint edge
• Custom widths are available
• Custom stains and species available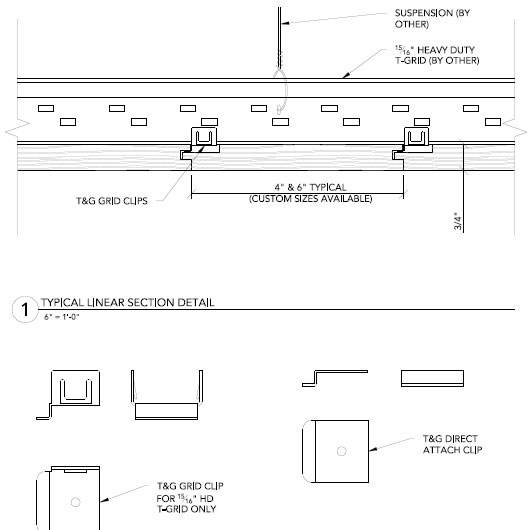 Linear Alumiline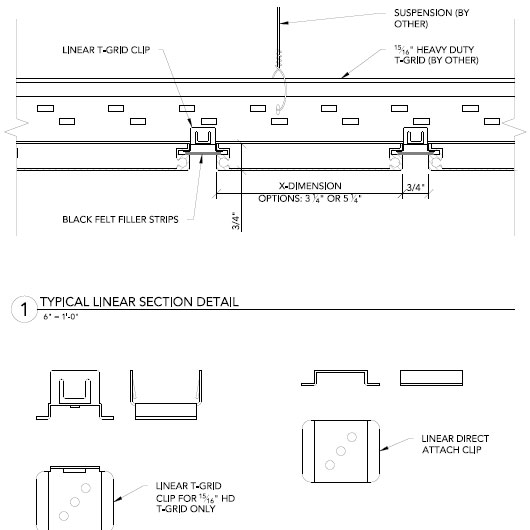 Linear Alumiline
• Planks are field cut to fit irregular installations
• Planks provide a monolithic appearance with staggered end joints
• Custom lengths available for seamless installations
• Perfect for high humidity installations
• Optional Powder Coat finish provides durability in high traffic areas