Cloud Ceilings – Flat, Convex, & Concave, in Perf & Non-Perf
 Cloud panels are easy to install, and may be used individually or linked together (with mending plates) in various sizes and shapes to form larger clouds. Mounted on 1″ steel tube frames, Clouds are available in concave, convex, and flat styles. Curved Clouds have a standard 12′ radius. Custom radius and size options are available. Finishes include wood veneer or a high-pressure laminate. For projects requiring sound absorption, Clouds may be perforated and backed with an acoustical backer.
If ordering quantities less than 500 sq.ft. please call 1.888.258.4637 for availability. 
Available in wood veneer in the species shown below*
Convex: 12′ typical radius
Concave: 12′ typical radius
Flat panels
Perforated or slotted
High pressure laminate face optional
Perimeter trim available (MDF core only)
FSC available
May contribute to LEED® projects
FINISHES: Clear lacquer top coat or stained to match
Available core materials are:
Class A Fire Rated Particle Board
Class A Fire Rated MDF
Naturally reflects & scatters sound
Acoustically absorptive when perforated-NRC varies based on the hole pattern Optional features for sound control:
Acoustical backer available in 1″ and 2″ thicknesses
Maximum 60″ x 120″
Curved clouds standard radius 12′
Custom radius may not be less than 48″
Suspended from 1″ tubular steel frames with "D" rings
Cloud Concave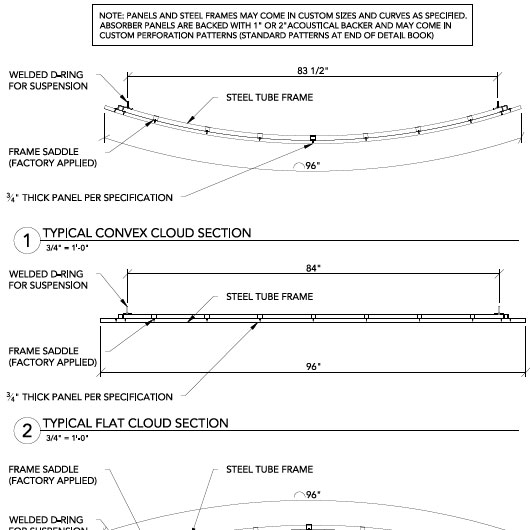 Cloud Concave
Cloud Concave
• Radius can vary from cloud to cloud in the same installation
• Custom sizes available to fit irregular installations
• Can be used in conjunction with Convex and Flat Clouds
Cloud Convex
Cloud Convex
Cloud Convex
• Radius can vary from cloud to cloud in the same installation
• Custom sizes available to fit irregular installations
• Can be used in conjunction with Concave and Flat Clouds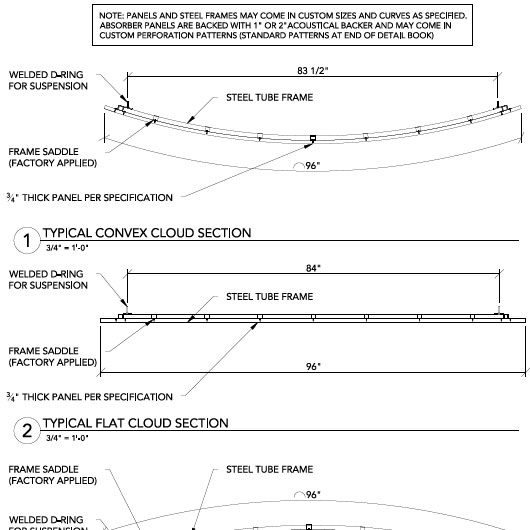 Cloud Flat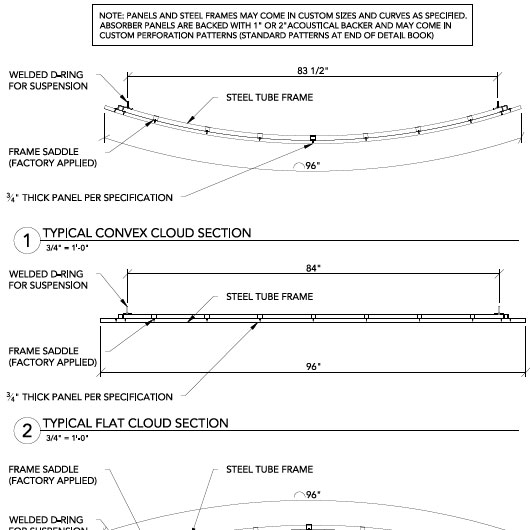 Cloud Flat
Cloud Flat
• Custom sizes available to fit irregular installations
• Can be used in conjunction with Convex and Concave Clouds