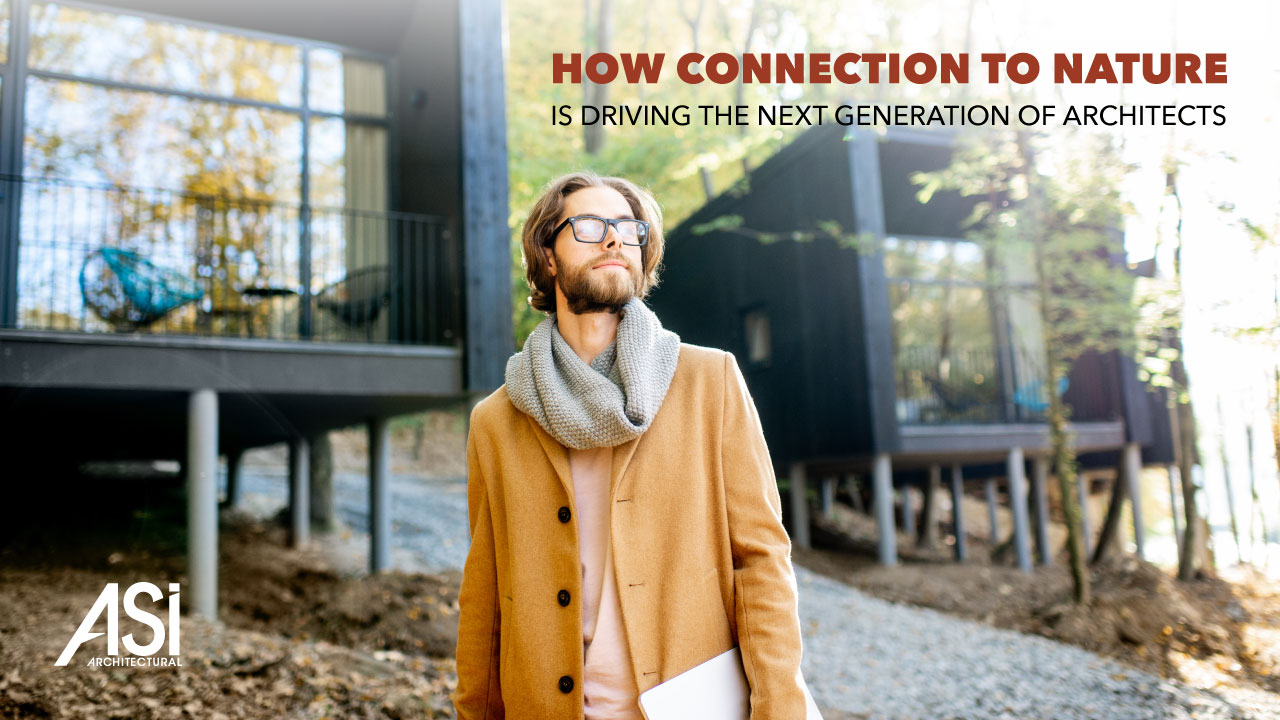 How Connection to Nature Is Driving the Next Generation of Architects
Just as clothing styles, musical tastes, and technology change over time, so does architecture. Over the last 3,000 years, while accented by flourishes here and there, there have largely been noticeable shifts in architectural thought at several key junctures. For example, the Neoclassical movement in the late 18th century revived forms and styles from Ancient Greece and Rome. Modernist style in the early 20th century brought about an influx in angular and "colder" shapes that had rarely been seen, especially in residential spaces.
While architecture as a whole tends to move in large waves, the design elements utilized by architects can change more swiftly and be influenced by factors such as geography and purpose. One of the most prominent design themes that architects are implementing in recent years is the return to natural elements, especially in interior spaces. As younger generations connect with nature, these individuals have been incorporating materials such as wood and stone more regularly. ASI Architectural discusses the development of the trend and its implications for natural materials in architecture.
natural materials in architecture: The Reemergence of Biophilic Design
In the early 1990s, the biophilic design movement took shape. Biophilic design is based on the idea that humans have a natural connection with nature, and strives to augment that connection through increased exposure to directly and indirectly natural elements. Proponents argue that designing spaces this way reduces stress and has environmental and even economic benefits, with few drawbacks. While the formalization of this idea is relatively new, the concept is not – gardens and courtyards, for example, have been present in design for thousands of years.
The productivity benefits heralded by some were an indication of the larger-scale health and wellness amplification that natural sources offer: indeed, research shows that individuals who are exposed to more green space live longer and report better health.
As architects began to incorporate natural design flavor, an extreme end of the spectrum manifested in the development of sod-based "green" roofs and large indoor plants. The more subtle uses of the motif, however, became increasingly prevalent. Carpet was removed to expose hardwood floors, and fur shag rugs became more common. Stone countertops and wood mantles returned, replacing more synthetic "modern" materials.
The Strongest Natural Design Element: Wood
As natural design takes the center stage in architecture, the versatility of wood opens up a world of possibilities. This ancient construction material is still one of the most effective and stunning. Various types of wood with different colors, grain patterns, hardness levels, thicknesses, and sonic properties can serve practically limitless purposes when it comes to outfitting a space for structural, aesthetic, and acoustical considerations.
At ASI Architectural, wood is one of the materials we work with most commonly. Our catalog features ash, maple, beech, walnut, red and white oak, hickory, cherry, and both natural and caramelized bamboo. The immense variety that wood offers from a design perspective is hard to quantify; it can be fashioned into a variety of paneling, beams, planks, and decorative tile that not only create a classic look, but can positively affect the acoustical environment.
Some of the design patterns that the ASI Architectural team offers include: 
As architects continue to unceasingly innovate and explore, wood will continually offer a tasteful and sturdy option with a huge variety of design and acoustical possibilities. We at ASI Architectural are proud to be on the forefront of this exciting design frontier.
ASI Architectural – Wood Solution Experts
For years, the professionals at ASI Architectural have been enhancing the design and sound performance of hundreds of spaces using customized wood solutions with natural materials in architecture. Our engineering expertise helps designers, architects, and builders create rich and iconic structures that look as beautiful as they sound. Our team of experts can help you plan, place, and perfect your choice of cutting-edge products to create stellar results for your patrons. Learn how ASI Architectural can help you reach your goals today by exploring our website and products.