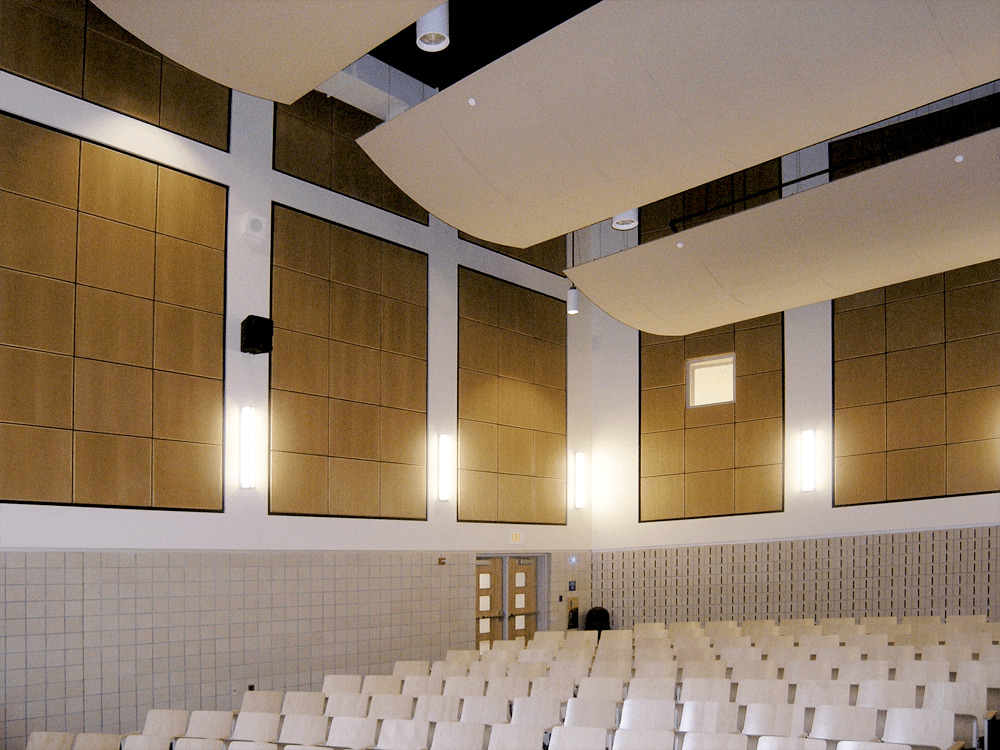 Perforated and Non-Perforated Wood Panels in Modern Commercial Architecture
The ever-expanding selection of building materials available to us these days has given us a license to express our creativity in nearly whatever way we want. Sometimes it works out to fantastic effect. Other times, not so much. The best designs incorporate a tasteful mix of natural design elements and make us feel completely at ease. If your goal is an eye-catching modern design with a timeless feel, perforated wood panels give you a beautiful mix of the two.
Why Wood Panels?
When you've grown tired of that peeling paint or dated wallpaper, it's time to consider something with a little more longevity. Not only do wood panels provide a classic look, but they hold up physically much longer than things like paint and paper. It's also well-documented that decorating with natural materials and textures provides a superior work environment, allowing employees to relax, concentrate, and produce. No matter what your project, the beauty of the wood will enhance the calm, natural feeling you are looking for. This enhanced atmosphere will be appreciated by everyone who enters.
Wood panels are also very versatile. If you're picturing slabs of perforated plywood, think again. They are available in numerous different tree species and vibrant colors, so you can always find a finish that's perfectly matched to your design ideas. The deep, dark colors in walnut might provide the rich browns and greys you want. If you want to shine a little light on the room, bamboo is a beautiful option. It feels light and linear and works with so many different design styles. This wide range of available colors and textures results in an endless array of decorating opportunities.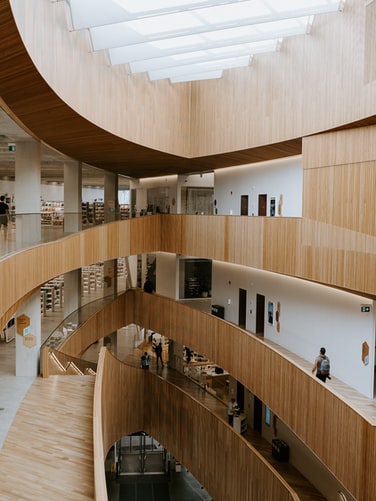 Sound Absorption in Perforated Wood Panels
Natural colors and textures will take you a long way, but to set a tone of calm, the addition of acoustic treatments is a must. The two don't always go hand in hand. Surfaces that are solid like hardwood and stone reflect a lot of sounds, but that doesn't mean adding hardwoods to your design will necessarily add noise. If your room fares pretty well on the sound scale, you can use the solid non-perforated panels to give it the makeover it needs. In a room that relies on silence, perforated panels can be a game-changer.
Designing rooms with perforated wood acoustic panels has some advantages over using fabric panels. First, they are much easier to clean in high traffic environments. The beautiful wood veneer face gives you the ability to absorb sound without the entirely porous surface you get with fabric. Second, they can be used to cover entire walls and ceilings. While fabric acoustic panels can be built to fit most spaces, wood panels seamlessly cover the entire space. You can even decorate on top of them, meaning there's still a place for your art collection.
Fusion perforated ceiling and wall tiles are the perfect solutions to noisy rooms. These perforated acoustic panels can reduce more or less reverberation, depending on the hole pattern you choose. Each tile is backed with Soundtex for superior acoustical absorption. If you require more sound control, optional acoustical backers are available in one and two-inch thicknesses.
Working Wood into Your Walls
Walls are probably the first and most obvious choice for treatment with wood panels. They are directly in our lines of sight and are the most decorated large surfaces in any room. Choosing wood allows you to go fairly neutral without resulting in the boring factor that a coat of medium grey paint can leave on your walls. The wild and linear grains in the wood provide natural flair and texture that's hard to duplicate.
Walls can also contribute to a lot of reverberation. If that's a concern, going with the perforated variety of panels will add a level of sound control to the room. The acoustical properties lend a steady ambient tone to space. This will keep conversation levels low and concentration levels high. When no one needs to shout to be heard, no one needs earplugs to focus.
Working with Wood Ceilings
Your other obvious choice is the ceiling. When you start working with wood ceiling panels, ideas will come out of the proverbial woodwork. The panels are far more attractive than things like popcorn and traditional drop ceilings, and they give you the ability to create a visual flow not possible with many conventional ceiling treatments. Decorating ceilings can be a tough look to pull off. Treating the entire space is a great way to add interest to these vast expanses.
Since ceilings tend to be another problem area for sound, they too can benefit from the acoustic properties offered by perforated wood panels. Not only do voices bounce off the hard surfaces above you, but any exposed HVAC components also add noise of their own to the room. Suspending wood panels between the two sources will work wonders on your sense of calm. With multiple mounting options, this is another spot where you can let your attention to detail shine.
The perforated wood texture can give you nearly any feel you want since our standard perforations come in a range of different sizes. If you want to customize the texture further, we have slotted and custom perforations available as well. Don't feel confined by standard designs. These perforated wood sheets come in so many styles, there's no reason not to make your ceilings pop. 
Tipping the Scale
Fusion panels are available with either Class A Fire Rated particle board or Class A Fire Rated MDF cores, meaning they won't allow for the rapid spread of fire. In an emergency, every second counts. Using building materials that give you those seconds helps ensure the safety of everyone in the building.
Once you start dreaming up designs using solid or perforated wood panels, most of these benefits will fall by the wayside. The beauty alone will be your driver. Depending on how important each feature is, you can customize the performance of your panels to your heart's content.