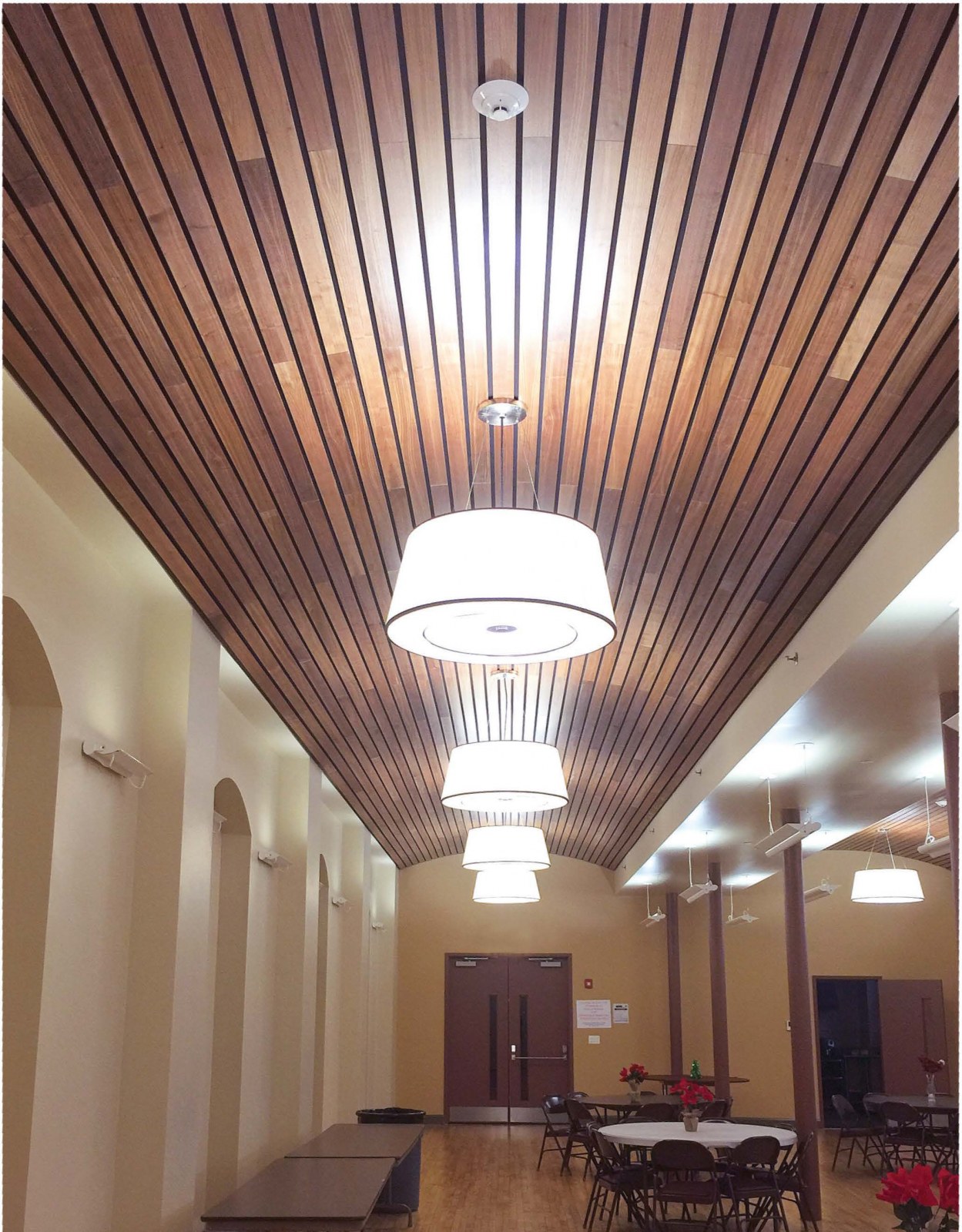 Linear Wall And Ceiling Solutions By ASI Architectural
When designing a space, the details are what makes a good project great. At ASI Architectural, we understand that it is the things that people often don't notice right away that great designers and architects pay the most attention to. Providing a background solution that helps to create a homogeneous feel across a project that is also high-quality and high-performance can be a tall order, but that is where ASI Architectural comes in. We created Linear ceiling and wall solutions in order to provide architects and designers with high-quality materials that are beautiful and functional. Linear wall and ceiling panels have the character to help a modest space feel more cozy and comfortable without outshining the rest of the decor and have the class to stand out and bring distinction to spaces like great halls, ballrooms, or concert halls.
These modular wall and ceiling solutions can also be outfitted with acoustical backers of varying thickness to bring acoustical noise-absorbing performance to a space in an invisible and classic style. Due to their modular design, Linear wall and ceiling solutions offer incredible accessibility for upkeep and repairs, saving time and money in the long run. Learn more about the features of Linear wall and ceiling solutions, as well as the styles available, below.
Linear Ceiling And Wall Styles
At ASI Architectural, we focus not only on providing a superior product for architects and designers but providing one that has a variety of applications and styles for quality that can be used across many different projects. Linear ceiling and wall panels provide this variety. With a wide array of wood species, acoustical backers as add-ons, and different styles for different projects, Linear provides versatility for your next project. Here are some of the different styles of Linear panels.
Linear Reveal: Linear Reveal provides the classic monolithic style, with straight wooden lines running across a ceiling or wall and black background poking through. This gives a modern appearance and creates an aesthetically pleasing visual effect that allows for the color of the wood to be accented by the black peeking out behind it. This style is excellent for designers because it can be customized and altered so that the size of the reveal as well as the width of the wooden planks can be customized to fit any design specifications. This style can also be easily fit with an acoustical backer in order to boost noise reduction in a space. This modular style has many stains and wood species available in both solid wood and veneer for a customized look to fit any space. Staggered end joints help with monolithic appearance, and modules attach to 15/16" heavy T-grid structure.
Tongue And Groove: Tongue and Groove style Linear wall and ceiling solutions provide a more "solid wood" plank look. The interlocking planks leave no gap in between, presenting the coloration of the wood as the main aesthetic that is displayed. This style can be field cut in order to fit different installations on-site. This design can provide a traditional look in a V-groove edge. This can also be achieved through the butt joint edge, providing a more modern look to the ceiling and wall solutions. The width of each plank can be customized upon request to give the style a wider, more traditional look or go slimmer for a more modern feel. This style can also be outfitted with an acoustical backer for noise-reduction performance and fits into a 15/16" T-grid for simple installation on-site.
Versatility In Application And Style
In addition to the styles available for Linear wall and ceiling solutions, designers and architects are able to customize these panels by wood species as well as customizing the size and shape of the solution. For the reveal models, the space between the wooden planks comes painted black as standard but can be customized. Architects can customize the width of each plank, as well as how each plank fits together in the Tongue and Groove style, for unprecedented control over the aesthetic look and feel of each module ceiling and wall solution.
As far as the wood species that can be featured on Linear wall and ceiling panels, there are many to choose from. Ash, Maple, Beech, Walnut, Red Oak, White Oak, Hickory, Cherry, Natural Bamboo, and Caramelized Bamboo can come in either solid wood or veneer. When looking at the construction of the Linear planks themselves, there are even options there to customize. The core of the modules can be left as solid wood, particleboard or MDF, and Class A Fire Rated Particle Board or MDF.
Linear wall and ceiling solutions are perfect for your next project. With the class and style to be right at home in a library or concert hall, the acoustical backer can help provide an eye-catching architectural piece while improving the overall acoustics of a space. For the same reason, applying a different look and style, Linear solutions would be perfectly at home in a cozy dining space or coffee shop, providing a warm ambiance while aiding in noise reduction for increased customer satisfaction.
Taking Care Of Your ASI Architectural Products
ASI Architectural is proud to only produce the highest-quality products for architects and designers across disciplines. We equip our products with a robust warranty that makes sure that products like Linear panels are covered for expected use and are meant to last decades. It is important, though, when installing Linear ceiling and wall panels that they are properly acclimated and cared for in order for the warranty to not be voided.
Acclimation is important, particularly in the Northern United States because the low atmospheric humidity typically causes more movement of wood products. ASI Architectural suggests that for acclimation, all products should be moved to the site installation area for a minimum of 72 hours prior to any installation activity. Make sure the space where the Linear panels are being installed is between 25-55% humidity, and the temperature of the installation site should be between 55-80 degrees Fahrenheit. Linear wood planks and flat panels should be carefully stacked with three or four slats stacked face to face and back to back, perpendicular to the stack allowing for air circulation
As far as caring for Linear wall and ceiling panels, it is important to keep them away from moisture, and if the surface does come into contact with moisture, wipe it away immediately with a non-abrasive cloth. Prolonged exposure to moisture, sunlight, or abrasive cleaners all can void the warranty that the product comes with.
If you have further questions about care for our products or any other installation or care-related questions, please don't hesitate to reach out. Our team of experienced individuals has been together for over 30 years, and we know how to help you with any question you may have. For more resources on care, see our blog "Maintaining Your ASI Architectural Ceiling And Wall System".
High-Quality Materials And Performance For Your Next Project
ASI Architectural is based around the goal of bringing innovative architectural and acoustical products that meet or exceed architects' and designers' goals. ASI Architectural has been in business for over three decades, with many major awards that have been given to both our service and our products. We provide solutions that make your space look beautiful, and with many of our products the space will also sound as good as it looks. Architects and designers looking for invisible yet effective acoustical treatments will love the Linear ceiling and wall solutions, and the versatility that they provide to a project.
Linear wall and ceiling panels, as well as all of our other ceiling and wall products, are made to install easily. This will save contractors and project managers time and headache, as well as keep projects on time with simple installation. Our staff is experienced and is ready to help you with any questions you have about installation or care of our products. Learn more about us, and see our entire catalog, by browsing the rest of our site here: https://www.asiarchitectural.com/.