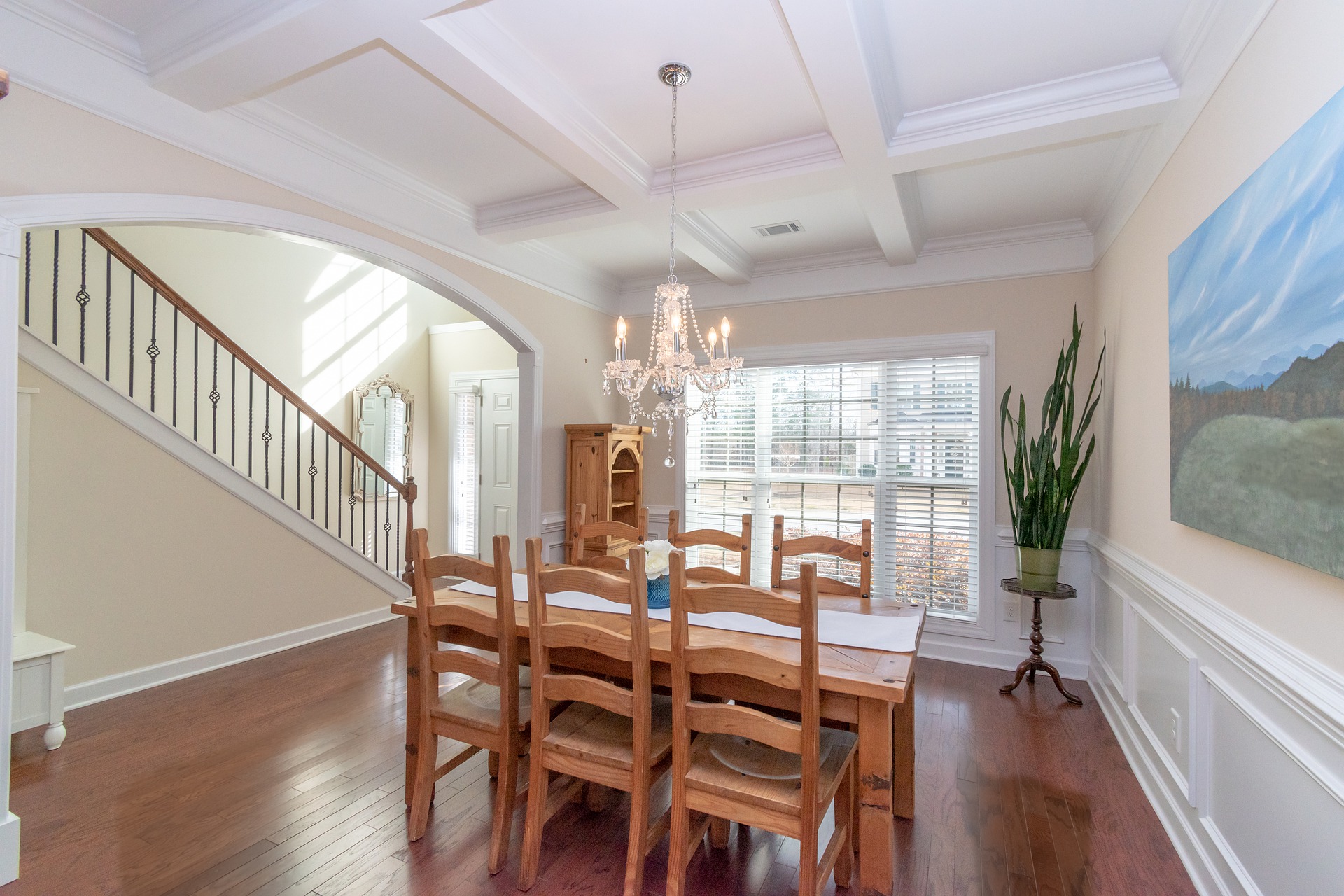 The benefits of coffered ceilings
Ceilings can get a bad rap. Oftentimes, they are boring and covered in dust and cobwebs. Most people don't know what to do with their ceilings, so they settle with a simple look that doesn't do very much as far as creating an interesting environment. Since no one is going to be blown away by your popcorn ceiling, people have been gravitating to more interesting options over the past few years. Coffered ceilings can be a great alternative to traditional, more or less flat ceilings.
They create depth and the appearance of a higher ceiling. They can also be a pretty expensive option, depending on how elaborate you want to go. The more you know about what coffered ceilings are and what benefits they serve, the easier it will be to decide what style and price point works best for you.
What are
coffered ceilings
?
Coffered ceilings have actually been around much longer than you may realize. They've been found in structures that date to at least the ancient Greeks and Romans, and emerging evidence points to the fact they may have been around even longer. They can be found in the architecture of civilizations from all over the world. So, what is a coffered ceiling?
A "coffer," architecturally speaking, really just indicates an indentation, and the specific design could take many different shapes. In a simple coffered ceiling, the beams criss-cross in a grid at right angles.
The indents created by the beams often have coffered ceiling tiles inset to create visual interest.
Beams, waffle ceilings, and coffered ceilings
The beams may form repeating hexagonal or octagonal patterns in more elaborate designs, leading to a very visually stunning effect. Whatever shape works for your room, there are acoustical and aesthetic reasons for choosing a coffered ceiling.
Not all instances of indents are necessarily referred to as coffered. One single raised element would be referred to as a tray ceiling rather than a coffered ceiling, which traditionally features multiple raised areas as opposed to just one. 
There is also a waffle ceiling vs. coffered ceiling naming debate that comes up sometimes, but a waffle ceiling is simply a subset of coffered ceilings. The distinction is simple. The beams in a waffle ceiling pass through the intersections with the other beams. This creates a repeating pattern that can look like a waffle.
What is the point of a coffered ceiling?
When we see something like a coffered ceiling, we wonder what purpose it serves. Does it have something to do with the structure of the room? Is it purely decorative? Why choose a coffered ceiling?
One of the main benefits of coffered ceilings is that they make your ceilings look higher. This adds to the illusion of a larger, more interesting space. The visual effects not only make the room look taller, but they can add visual length, create focal points, and break the room into segments, depending upon the design you ultimately choose.
They can also absorb excess sound and create a greater sense of calm than a room where large, flat surfaces define the ceiling. That sound absorption can help keep sound from wandering into other parts of the house or office, making coffered ceilings ideal for things like bedrooms, living rooms, and spaces where we gather or entertain.
Do coffered ceilings add value?
When we take that plunge and remodel our homes and offices, we generally like to focus on things that provide a good return on investment. Things like kitchens and bathrooms are natural starting points. Money spent there is almost guaranteed to improve the value of your home. 
If you want to add value in other areas of your home, consider the ceiling. Most people ignore this fifth wall, so doing something creative can turn a regular room into something special. While adding a coffered ceiling costs a moderate amount, experts generally agree that you're likely to recoup your investment when it comes time to sell.
Will coffered ceilings go out of style?
Another key point in remodels is how long the design will feel relevant before it starts feeling dated. Looking through all the coffered ceiling ideas readily available online, you'll likely find a few that would look great in your home or office. You'll also find examples that feel old. Some of the coffered ceiling images you come across may have been taken in very old buildings, which makes many people wonder, "are coffered ceilings outdated?"
The simple fact that this design trend has been around as long as it has should tell you all you need to know about the timelessness of coffered ceilings. They are a classic detail. If you're still on the fence, there are modern coffered ceiling designs that will feel right at home in your space that will match the current trends while feeling fashionable for decades to come.
Adding Coffered Ceilings to your space
If you decide you want to add coffered ceilings, you're going to want to keep a few things in mind. 
First and foremost, you'll want to make sure the room is suitable for coffered ceilings. They work best in rooms with ceilings 9 ft or higher, but you can find some creative coffered ceiling ideas for 8 ft ceilings if that's what you're working with.
Adding beams to a ceiling with low clearance can make the room feel cramped, so make sure you know what you're getting into if you aren't starting with high ceiling joists.
Coffered Ceiling materials
The material you choose will dictate the price. Different species of wood can be vastly different in price, so know how you want to finish it before you start construction.
If you want a stained wood look, you'll want to go with nicer wood. If you want to paint the beams and add acoustical tiles or decorative coffered ceiling tiles to the recesses, you can save money going with pine. It's a lighter wood and gives you a cushion in the budget for other upgrades.
If you don't know how to install a coffered ceiling, you're better off hiring a professional.
Without the technical carpentry skills necessary to install them properly, you may add too much weight to your ceiling or end up with a finished product that just doesn't look that great. Hiring a qualified professional will ensure you're happy with your investment. 
Are coffered ceilings worth it?
This little bit of knowledge will give you a great starting point in your journey to add an interesting and functional design element to your ceiling. Coffered ceilings have a lot to offer and are available in so many designs.
There's something out there that will take your place to the next level. When you're ready to learn even more about creating your perfect room aesthetic, we're always here to help.