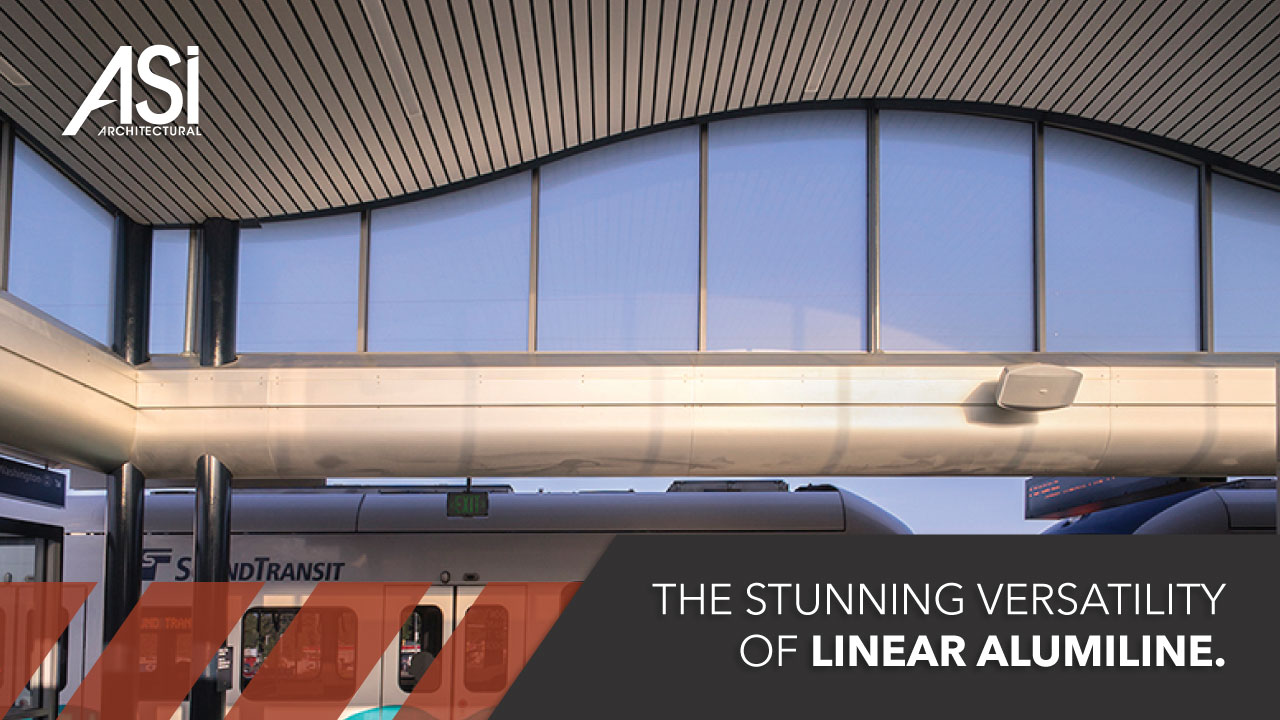 The Stunning Versatility of Linear Alumiline
When it comes to the design of a commercial or common space, aesthetics is one of most important components. An environment with a crisp and innovative design can entice patrons and guests to spend more time in the space, and evoke a sense of style and comfort during their visit.
The framework of any interior or exterior design project begins with the bones of the space: the walls and ceiling. Designs for these elements can be tricky, and there are a myriad of design options for outfitting them. One of the more versatile and sleek alternatives for stunning ceiling and wall designs is Linear Alumiline. When implemented, this cutting-edge material creates a modern aesthetic that amplifies and enhances any space. Keep reading to hear the technicians at ASI Architectural explore this material and its varied applications.
What Is Linear Alumiline?
A cherished product from the professionals at ASI Architectural, Linear Alumiline is a customized plank system of extruded aluminum that is laid in parallel lines through the length of a space. These planks are humidity and wear-resistant, making them a perfect design choice for nearly every environment, indoor or outdoor. The simple and seamless nature of the plank system allows for impeccable versatility in design applications.
For added utility, Linear Alumiline can also be installed with a 1" or 2" acoustical backer for increased sound absorption.
Where Can I Use it?
As mentioned, Linear Alumiline is extremely durable which makes it ideal for environments such as train terminals, carports, outdoor common spaces, and more. 
These aluminum planks also offer the perfect material for showcasing products or highlighting the other aspects of a space. In this sense, Linear Alumiline planks can act as a "salt" of the dish that is the common space, bringing out the accented details around them. Office spaces or restaurants that desire this type of design element have had success using Linear Alumiline in their architectural plans. Though the planks themselves are linear, because they are only a few inches wide, they can be installed along curved ceiling and wall surfaces to create a feeling of depth and flow in a space.
ASI Architectural has utilized Linear Alumiline in a variety of applications; check out the complete gallery displaying our Linear Alumiline portfolio here.
Specs and Installation
The aluminum material is strong enough to resist rust, decay, mold and mildew – the material is washable and scrubbable with basic cleaning materials.
Planks come in standardized sizes of 8' and 10', but can also be cut to custom lengths depending on the needs of the project. Depending on the acoustical and durability preferences, planks are also available in two widths (3.25" and 5.25"), both of which have been tested for performance and acoustical properties. The Linear Alumiline material carries a Class A fire rating.
Finished Linear Alumiline planks are available in 22 different colors. If placed in a high-traffic area, we also offer Powder Coat Finish to make these planks even more durable.
For smaller projects, Linear Alumiline can be installed seamlessly by the experienced Do-it-Yourselfer with common tools and materials. For detailed instructions on how to install your Linear Alumiline planks, check out this 4-minute video from the professionals at ASI Architectural. On the other hand, if your project involves custom cuts, hundreds of planks, or you simply don't have the bandwidth to install the planks yourself, a technician from ASI Architectural would be happy to help. We have years of experience implementing Linear Alumiline into a variety of spaces.
ASI Architectural – Your Design Solution
As you can see, Linear Alumiline offers clear benefits for the design and functionality of common spaces. However, it is but one tool in the arsenal of ASI Architectural products. We offer more than a dozen specialized products for acoustical and design augmentation, all of which can be intricately customized and professionally installed. 
For over three decades, ASI Architectural has been enhancing the design and sound performance of hundreds of spaces using customized design solutions. Using engineering and technical expertise, our professionals help designers, architects, and builders create bold and iconic structures with the perfect aesthetics for the space and purpose. Our team of experts can help you plan, place, and perfect your choice of cutting-edge products. Learn how ASI Architectural can help you reach your goals today by visiting our website.