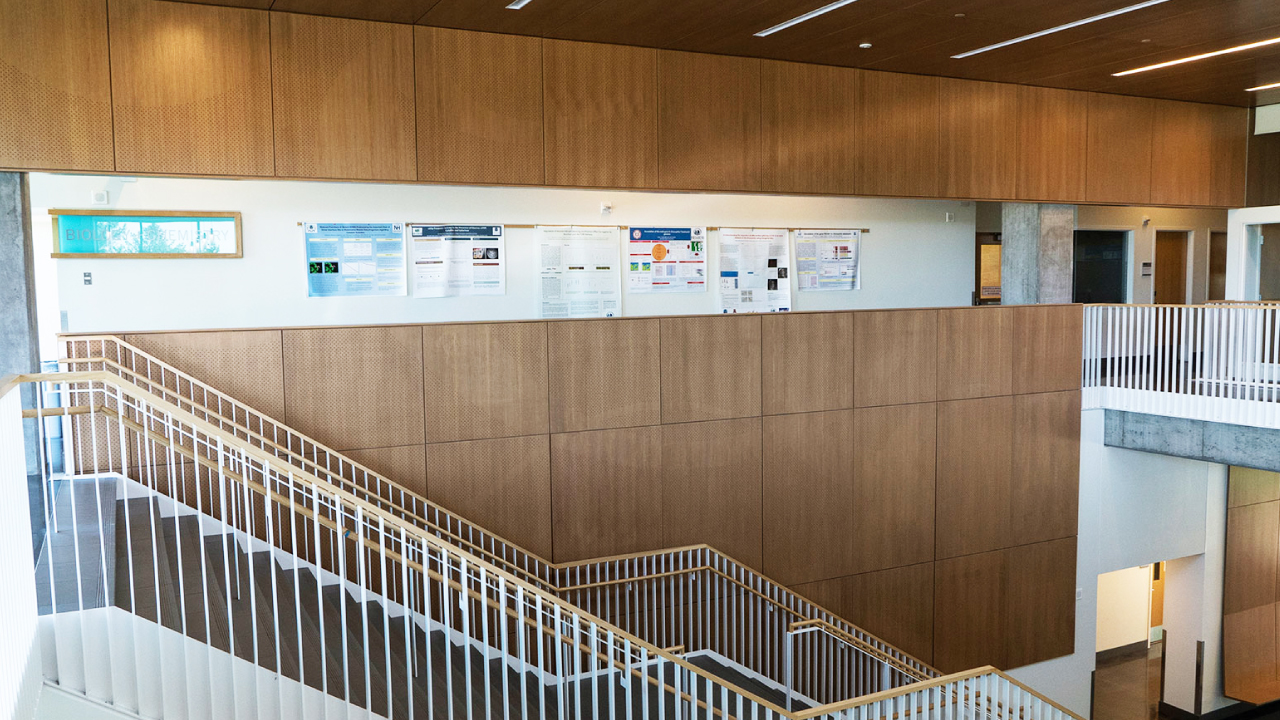 Transform Your Commercial Space with Fusion Ceiling and Wall Panels
We understand the importance of using quality materials to transform your building design. Whether it's an office or a restaurant, ASI Architectural has the materials and experience needed to transform your project. Fusion Ceiling and Wall Panels are as beautiful as they are functional, and come in many different shapes and sizes to provide versatility to your next project. 
Fusion panels can be customized to fit your next project's specifications by being custom cut on-site. Designers and architects can customize the perforations from 4mm, 6mm, and 8mm diameter holes spaced either 16mm or 32mm in square or diamond patterns, as well as select an optional slotted design. These panels come in a variety of wood species for veneer, allowing designers and builders to customize their appearance to the aesthetic of their project. Fusion panels can additionally be outfitted with acoustical backing in order to provide any space with sound absorption for acoustic optimization. Read on to discover how Fusion Ceiling and Wall Panels can transform your commercial space.
Acoustically Optimize Your Space
For over three decades, we have provided solutions for architects and designers looking for acoustical ceiling and wall solutions to bring to their next project. From hospitals to lecture halls, architects and designers working on commercial spaces of all shapes and sizes utilize Fusion Ceiling and Wall panels for their acoustical optimization properties. Bars, restaurants, offices and other commercial spaces require varying degrees of privacy; customers and workers benefit when sound is kept inside its designated space. Churches, synagogues and mosques are commercial spaces where attendees hope to receive some level of peace and comfort and therefore require proper acoustics. Fusion panels are acoustically absorptive when perforated, with the NRC varying based on the hole pattern. For projects requiring sound absorption, acoustical backers may be installed above Fusion ceiling or behind Fusion wall panels for added acoustical optimization.
Add Style to Your Space
Sound absorption and functionality will always be important, but aesthetics matter too. Fusion Ceiling and Wall Panels are incredibly stylish and customizable, and are available in customizable diameters, spacing, and perforation patterns. These panels feature wood veneer faces in a variety of color schemes and wood grains, including ash, maple, red oak and cherry. Finishes include the choice of a clear lacquer top coat or stain, with touch-up finishing available for field application. Fusion Ceiling and Wall Panels will add immediate style and class to your commercial space. 
Enhance the Design of Your Space
Fusion Ceiling and Wall Panels are not only stylish, they are easily mountable and can be installed in a variety of different layouts to fit the aesthetic of your commercial venue. 
Panel:

The Panel configuration gives a grid look and feel to a ceiling. Panel-style solutions incorporate spaces between Fusion units, creating black "cracks" and adding a more distinct edge to each panel. The amount of space between panels can be customized, as well as length and shape of each Fusion panel, in order to fit custom projects.
Lay In:

The Lay In style gives a more "solid" look to your wall or ceiling with only minimal space between panels. Lay In solutions fit directly into a T-bar grid, making replacement, service, and cleaning incredibly simple. Designers can even shuffle panels in order to create new patterns as needed.
Tegular:

Similar to the Lay In style, a Tegular layout incorporates the same properties of Fusion that are found in Panel, except these panels are constricted by a T-Bar grid sizing, offering a more nuanced look and feel to the installation. Tegular panels hang slightly lower than the T-grid, giving the visual effect of a panel that is popping out of the ceiling. This creates a shiplap style effect where the panels meet, providing a more textured pattern rather than the flat monolithic-esque look of Lay In. 
Fusion wall and ceiling panels are designed for easy installation, saving contractors and project managers time and headache and keeping projects running smoothly.
Enhance Your Next Commercial Project with ASI Architectural 
We strive to provide the most innovative and functional solutions to our clients in order to help them create beautiful and optimized commercial spaces. We are happy to help you by answering your questions and providing any and all resources we can. Discover why ASI Architectural is a leading acoustic and architectural solutions provider by visiting our website and learning more about our company and our high-performance products.